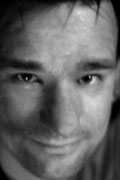 Dave Thomas (dt) is the originating mind and common denominator behind cryophonik. Born in Michigan in the late 60's, he has been a musician for most of his life, beginning in elementary school, when he learned to play the piano, organ, and trumpet. In middle school, he learned to play the bass, which eventually became his primary instrument and would lead to a succesful professional career in his later years. It was around this time that he also started collecting synthesizers and learning to program them. After high school, dt obtained his first college degree in Music Theory/Composition. However, a few years later, he went on to obtain additional undergraduate and graduate degrees in Biology. He paid his way through college by playing in numerous bands and ensembles, doing studio session work, and working as a live audio and lighting engineer. Although he primarily played bass and provided vocals in these bands, he was also responsible for programming and sequencing the synthesizers in his most successful projects, which included Grooveyard and Let's Beat up Joe. After completing his Masters degree in 2001, he and his wife moved to northern California to start new careers.
With the hectic schedule and responsibilities of his new professional career, dt decided that it was time to start a new chapter in his musical career. So, he gave up on the live performances and built a home studio from which he could start producing his own music. He quickly realized that the world of software-based recording and the unleashed power of today's synthesizers opened a world of possibilities for producing some of his favorite forms of electronica, ranging from 80s synth pop to 90s industrial, to the trance anthems of the 90s and 2000s, and chillout tunes spanning all these decades. Hence, cryophonik was born.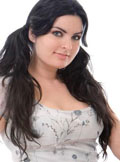 Aliciya Angel has been a mainstay in the Sacramento music scene for several years now, fronting several bands as a vocalist and guitarist and playing numerous local venues as a solo performer. Her style is a unique combination of rock bitterness blended with sweet soulfulness and she is an accomplished singer, songwriter, and performer in her own right. She first started working with dt in 2006, when he was collaborating on a side project called Pimpin Majesty, started by local muscians Eric Neff and Scott Oliver. Be sure to check out their dance-floor stomper "I Don't Want To."
One listen through the cryophonik playlist and you'll hear Alicya's unmistakable voice everywhere. Aliciya provided the lyrics and vocals to several cryophonik/Avery Parker trance collaborations, including "Seduction." She also collaborated with dt on the progressive house track "Essence", released by Straight Up! Records. More recently Alicya and dt have collaborated on "Bound", "Taking Me On", and "Shades of Red." Furthermore, she has enlisted cryophonik to produce several of tracks that she wrote, including "Waiting for Something", "You'll Fly Away", and "Love Feel" and is currently working on an acoustic album to be released in the summer of 2011.

Amie LaMonte started singing and writing from as young as she can remember. Poetry has been a huge part of her life,constantly writing. Although she was born and raised in California, she is mostly of European decent (Italian, German, Scottish, Polish, Russian, and French) With some Native American on her father's side. She has a deep appreciation for all genres of music, and gathers her inspiration from listening to all forms, Including music from other cultures and languages. She views her many life experiences as the fuel for the passion she puts into her songs. She is not just interested in singing and writing but having the listener feel the emotion, and experience of the song. Her goal is to inspire and make you feel, think, and always...send out a positive vibration...
Amie is the co-writer, lyricist, and vocalist on "Take All of Me", and is currently working on a new song with cryophonik, so stay tuned!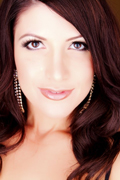 Heather Kelle has always had a love affair with music but only recently has begun writing, recording, and singing. In her late teens she fell for house and trance music after going to a rave party. Her interest in house music was reignited after a trip to Europe earlier this year which was when she contacted cryophonik to collaborate. She appreciates everyone who has supported her in her efforts thus far, including her family, (also talented singers!), vocal teacher Sherry Anderson, and various musical collaborators in Northern California. In addition to her vocal talents she is a professional fashion photographer and even steps in front of the camera from time to time.
Look for Heather's voice on the tracks "Life is Beautiful", "Forever", and "Venus", a cover of Shocking Blue's song that was popularized by Banaramama.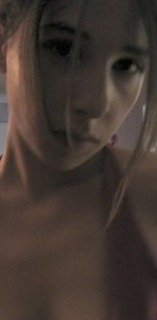 Mia Valo started writing and playing music at a young age when she had first picked up her brother's cherry red Fender Stratocaster. Growing up on the East Coast very close to NYC, she was exposed to all genres of live and club music. Her main musical focus has always been acoustic-rock and progressive music, but being a huge fan of house, trance, techno, dance and electronica since the early 90s she could not pass by the opportunity to work with cryophonik. Be sure to hear her hauntingly lovely voice on "Covering Ground", "Trials",and a cover of Lift's "In Summertime."
Look for more upcoming songs featuring Mia, including the forthcoming release of "Closer", a collaborative effort with cryophonik and Avery Parker that is sure to have the dance floors shaking!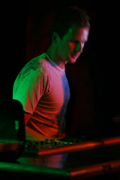 Avery Parker was first introduced to the electronic dance music scene in 1999. He fell in love with the energy and emotion in the music. He has been heavily influenced by the early cyber trance sound of the San Francisco Bay Area. Parker started producing in early 2007 and soon after teamed up with cryophonik. Outside of music Avery Parker's interests include, running, scuba diving, traveling the world, being a good daddy, and becoming a better human being.
Avery Parker has collaborated on numerous trance tracks with cryophonik, including "Tonight", "Seduction", "Machine Blue", "Like the Sun", and "Until We Meet Again." Be sure to check out his club remix of cryophonik's "Wanderlust" and look for the upcoming cryophonik-Avery Parker track "Closer" featuring Mia Valo.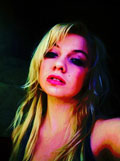 Avonlea Montague is a talented up-and-coming singer/songwriter based out of northern California with unique vocal and writing styles. Avonlea provided vocals on a handful of cryophonik tracks, including "So Far Away From Me" and "Wanderlust."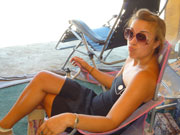 Sara Champie began working with cryophonik in 2006, and has been a perfect fit for some of dt's chillout tracks. Born to musician parents, all of her previous experience has been in live performances and small ensembles. Sara provided the lyrics and vocals on the chillout track "Again & Again" and the piano/vocal piece "Sweet Eyes." Sara has since moved back home pursue a graduate degree and, hopefully, will work with cryophonik again in the future.